Nigeria
There was confusion on Bankole Street, Isheri-Oke, Lagos on Friday morning when residents woke up to the sight of a woman hanging on a tree.
...
Residents who spoke to our correspondent also said that the woman was a Liberian who worked in a sachet water factory before she died.
...
After the outbreak of the Ebola disease that was brought to Nigeria by a Liberian diplomat, Patrick Sawyer, some of the people in the area opted not to have anything to do with her.
One of the residents who pleaded anonymity said, "We see her in this neighbourhood every day. She always looked sick but people stopped selling to her after the Ebola outbreak. It could be because she was Liberian and looked sickly. This might have frustrated her.
..
She was sick and people in this area had avoided her, especially after the Ebola outbreak."
Meanwhile, when our correspondent left the area around 11am, the woman's body was still hanging on the pear tree.
The social problem being faced by discharged cases has been reported to the government. "This ranges from stigmatisation, eviction from their accommodation, being asked to stay away from work and termination of employment.
"We have had cases of employers just terminating the employment of their workers who were just mere contacts, not even suspected cases. We believe this is unfair and we feel this impedes on their fundamental human rights.
Source
Out of fear of contracting the deadly #Ebola virus, foreigners living in Nigeria's oil hub Port Harcourt have begun fleeing the country in droves. Reports say their paranoia level was heightened by Minister of Health's statement and also WHO's projection that the virus could spread very fast in the city. The foreigners, with their fully-loaded bags and members of their families, stormed the Port Harcourt International Airport to board flights to their various countries. They were filling some forms whose contents were only known to them. The state Commissioner for Health, Dr. Sampson Parker, said that the action of the foreigners was unnecessary. He expressed surprise that the foreigners were wearing face and surgical masks when the state and the country had sensitised the people that the Ebola virus was not an airborne disease.
source
The WHO announced today that a doctor in southern Nigeria was exposed by a man who evaded surveillance efforts, and then in turn exposed dozens of others by continuing to treat patients after he became ill. Before he died, his family and church members laid their hands on his body in a healing ritualhose who were on the scene when the police car and the other cars came, told me when I got there, that they had already removed the body, which was wrapped in the Ebola body plastic, put it in the casket, closed it and had it in the grave they dug earlier in the day. They were even covering the hole. I got vexed with the young people who were around because I had told them [earlier that day] that when the body comes, it should not be buried without them producing a certificate."
He said as he walked away from there, the young men began to accuse him that he had taken money from the people to bring Ebola into their community.
"By 10:45 p.m., I got a call from a police officer in this community that the youth were digging up the casket from the grave. By 11 p.m. again, he called me: 'Richmon, those boys dug the casket from the grave and have placed it in the middle of the road.'"
Source
"He (Koye) had received the late Dr. Patrick Sawyer in Lagos. Upon developing the symptom, he confided in a female colleague, called Lillian, who contacted the late Dr. Enemuo. It was after contact was established with Dr. Enemuo that Koye flew to Port Harcourt to see Dr. Enemuo.
"To conceal his movement, Koye sneaked out of the isolation unit where he was being observed and took a flight to Port Harcourt and switched of his phone so that he cannot be reached or traced should he answer a call.
"On arrival in Port Harcourt, Koye checked into a local hotel called Mandate Hotel, around Rumuokoro in Obio/Akpor Local Government Area of the city."
Dr. Enemuo, knowing full well that Koye was positive of the Ebola virus took some measure of precaution to protect himself while treating Koye. Knowing the enormity of what he was doing. Dr. Enemuo upon Koye's departure for Lagos poured bleach all over the room that Koye slept in order to sanitise the place.
"Upon developing the Ebola symptom, Dr. Enemuo approached one of our colleagues for treatment at Green Heart Hospital, along Evo Road, in G.R.A. Dr. Enemuo did not tell the doctor that was treating him the truth. He merely told him that he had fever. He lied. He did not tell the doctor that was treating him his full story.
source
Another survivor, Dr. Fadipe Akinniyi, also of the First Consultant Medical Centre said he was happy to be alive after surviving the deadly disease, saying that he contacted the disease by simply opening the door.
"I am most happy here today because as a matter of fact, when everyone was running helter-skelter, I told myself, I only opened the door and by the virtue of that, nothing should happen to me, I never knew I was deceiving myself until the day I recorded my temperature ...
Even with the symptoms I did not believe I had Ebola. After all, my contact with Sawyer was minimal. I only touched his I.V. fluid bag just that once without gloves. The only time I actually touched him was when I checked his pulse and confirmed him dead, and I wore double gloves and felt adequately protected.
I told my parents I had to go with the officials to Yaba and that I would be back that evening. I wore a white top and a pair of jeans, and I put my iPad and phones in my bag.
A man opened the ambulance door for me and moved away from me rather swiftly. Strange behavior, I thought. They were friendly with me the day before, but that day, not so. No pleasantries, no smiles. I looked up and saw my mother watching through her bedroom window.
We soon got to Yaba. I really had no clue where I was. I knew it was a hospital. I was left alone in the back of the ambulance for over four hours. My mind was in a whirl. I didn't know what to think. I was offered food to eat but I could barely eat the rice.
The ambulance door opened and a Caucasian gentleman approached me but kept a little distance. He said to me, 'I have to inform you that your blood tested positive for Ebola. I am sorry'. I had no reaction. I think I must have been in shock. He then told me to open my mouth and he looked at my tongue. He said it was the typical Ebola tongue. I took out my mirror from my bag and took a look and I was shocked at what I saw. My whole tongue had a white coating, looked furry and had a long, deep ridge right in the middle.
I was stooling almost every two hours. The toilets did not flush so I had to fetch water in a bucket from the bathroom each time I used the toilet. I then placed another bucket beneath my bed for the vomiting. On certain occasion I would run to the toilet with a bottle of ORS, so that as I was stooling, I was drinking.
...
"The next day Monday 4th of August, I began to notice red rashes on my skin particularly on my arms. I had developed sores all over my mouth. My head was pounding so badly. The sore throat was so severe I could not eat. I could only drink the ORS.
...
The sheets were not changed for days. The floor was stained with greenish vomitus and excrement. Dr. David would come in once or twice a day and help clean up the ward after chatting with us. He was the only doctor who attended to us. There was no one else at that time.
...
Source
Liberia
The Ebola call center at the General Services Agency has seen reports of disagreements between management and call agents who are rejecting an offer of US$50 and half bag of rice as pay.
Liberia ebola donor funds: Suspiciously round numbers



An amount of US$ 100,000 has been disbursed to the Call center, also known as the Task Force center, but upon the disbursement, three officials of the center all departed the country for the United States of America.

FrontPageAfrica

newspaper has also gathered that the Comptroller at the Center has been removed for unexplained reasons.
FrontPageAfrica
Dead ebola victims claimed to be risen from the dead:
Two Ebola patients, who died of the virus in separate communities in Nimba County have reportedly resurrected in the county. The victims, both females, believed to be in their 60s and 40s respectively, died of the Ebola virus recently in Hope Village Community and the Catholic Community in Ganta, Nimba.
But to the amazement of residents and onlookers on Monday, the deceased reportedly regained life in total disbelief. The

NewDawn

Nimba County correspondent said the late Dorris Quoi of Hope Village Community and the second victim only identified as Ma Kebeh, said to be in her late 60s, were about to be taken for burial when they resurrected.
Source
The patients, who was seen crying bitterly for food, narrated that since many of them were taken to the center, the Ministry of Health and Social Welfare abandoned the center, leaving them to the grace of God for survival. Again on Saturday night at about 10pm, another patient reportedly jumped over the fence of John F. Kennedy Medical Center in demand of food and water.
Bystanders said then; the Ebola victim was seen sitting on market tables, crawling on his knees, indicating symptom of weakness, and cried so loudly that those who live within the vicinity of the JFK Hospital came outside and later provided water and bread to him. When quizzed about his name and community, the victim, believed to be in his 40s, refused to talk for fear that his family members and community could be stigmatized.
However, he later narrated his ordeal that the managerial staff at the center only spray them on a regular basis and provide a meal once a day. "My people, hunger will kill us first before the Ebola Virus can reach its peak in our bodies. Nobody cares for us;, they collect us from our houses with high expectation that the government will provide food and medication, but it is proven to be the contrary," he said in tears.
Several suspected Ebola patients escaped a holding center at the John F. Kennedy Medical Center and ran into the community, begging for food and water.
The three patients, all men, escaped butt naked after they reportedly frightened unarmed security officers at..
.... the three escapees ran outside and began to beg for food and water in faint voices. "We ran from them because there was blood in their mouths,...
the holding center at Cholera Unit, threatening that if they were not allowed outside, they would transmit the virus by vomiting and urinating on the security.
One of the escapees suddenly collapsed and died after he ate some bread and drank water provided by a bystander. The remains of the dead Ebola suspect spent about three hours in public view before the burial team arrived, something that posed a serious threat to the community.
Source
Dr. Juma specialties
Like Levine, he often found that people had no address -- or had one that even locals couldn't decipher. Residents moved a lot, and when they did, many times they took their doors and locks with them to save money. They wouldn't change the number on the door, so the streets ended up with a mishmash of addresses.
Add that to the fact that people are often uncooperative with the tracers, sometimes even throwing stones at health care workers. They fear that they or their loved ones will be put in the hospital; they've seen firsthand that people who go there often don't return.
Source
...
The first person I had to turn away was a father who had brought his sick daughter in the trunk of his car. He was an educated man, and he pleaded with me to take his teenage daughter, saying that while he knew we couldn't save her life, at least we could save the rest of his family from her. At that point I had to go behind one of the tents to cry. I wasn't ashamed of my tears but I knew I had to stay strong for my colleagues – if we all started crying, we'd be in trouble.
Other families just pulled up in cars, let the sick person out and then drove off, abandoning them.
One mother tried to leave her baby on a chair, hoping that if she did, we would have no choice but to care for the child.
I had to turn away one couple who arrived with their young daughter. Two hours later the girl died in front of our gate, where she remained until the body removal team took her away.
Source
The doubling time of this epidemic is about two weeks, so if we are overwhelmed with our resources right now, it's going to be twice as bad in two weeks' time."
...
The leading epidemiologist is studying the spread of the virus in Monrovia, where the outbreak is now most intense. He has told Channel 4 News that based on the current rate of spread and lack of power to control it, it has the potential to infect the majority of the population of the country.
Source
They tell us about a survivor in their community. He came back from the treatment centre, but despite testing negative for the virus infected his girlfriend, who died.
Source
As our evacuated staff returned to the United States from Liberia, we found wide discrepancies in how they were treated by local public health departments. One physician was quarantined for 21 days and directed not to leave the interior of the house under threat of a two-year imprisonment. In another area, our personnel were "isolated" for 21 days but only told not to leave the county. They were free to interact outside of their homes. Public health concerns can mean that a doctor serving in Liberia for two weeks may well end up missing five weeks of work.
...
West Africans are faced with a very hard decision if a loved one gets sick: take them to a center where more than 60 of 100 patients die or try to care for them at home. Many are choosing home care, which means sick people are staying with their families in their houses where they will most likely die and pass the virus to others.
...
I am frustrated about the continued lack of respect for this disease among those who have the best resources to fight it. The problem only seems to garner serious attention when Ebola victims are citizens of a developed nation, like Kent and Nancy.
source
Heavy rioting is taking place in Monrovia as Liberian army troops and residents in the slum district of West Point clash, less than 24 hours after President Ellen Johnson-Sirleaf announced a 9pm to 6am curfew and other stringent measures to contain the deadly Ebola outbreak.
FrontPageAfrica reporters on the scene say, some angry residents of West Point stoned security officers at the West Point LEC entrance as they attempted to enforce a quarantine and rescue the area's district commissioner.
...
Several government ministries and agencies as well as private business are locking up to avoid getting caught up in the melee.
...
Early Wednesday morning several calls from the quarantined West Point community indicated that some angry youths were planning to break into stores and other businesses to get food. Accordingly, prices of basic commodities including rice, water and others have skyrocketed resulting to anger amongst residents
...
West Point is a slum community infested with hard core criminals and drugs users
...
The fear of looting has [caused] all businesses to remain closed.
...
The government announced Monday that all 17 of the patients had been found after turning themselves in but no eyewitnesses saw them do so
....
[police] patrols the main streets using megaphone to ally fear amongst the civilians.
"Go about your normal business, your security is 110% guarantee, there is nothing happening, some unscrupulous people want to cause problem but everything is under control", a police officer riding RL 106 loudly expressed.
Source
...
Liberian Ministry of Health indirectly confirms
that no specimens are tested by now:
and the contacts follow-up process broke down long time ago.
...
The US embassy in Monrovia practically closed down (
no walk-ins
, bookings available in 3 weeks time only).
Btw, I noticed on the embassy's website that the USA was promoting...
goat-herding
in Liberia, via constructing goats lazarettes, as 80% of goat meat is imported to Liberia. So the locals don't even know how to herd goats themselves!
....
Border patrols let people on canoes, as ... the officials are scared themselves:
Yet many people continue to travel in boats across rivers traversing the countries experiencing Ebola, Khan
explained, and border officials are reluctant to pursue them because they fear they may become infected.
Of course it's the West which is to blame:
"I blame the WHO. If they had declared this an international emergency earlier, it could have localized the epidemic, but now the cat is out of the bag,"
Source
...
"So, then they are lying on us," a third concluded.
"They" is the Liberian government, which has been trying to manage the message of what happened here after a crowd of several hundred people descended on a newly-opened clinic, shouting "No Ebola in West Point!" The crowd — decrying the illness as a "hoax" — looted everything in the makeshift clinic, according to witnesses including the clinic director, and pushed the patients out.
Man carries a suspected ebola victim
Source
...
A mob descended on the center at around 5:30 p.m., chanting, "No Ebola in West Point! No Ebola in West Point!" They stormed the front gate and pushed into the holding center. They stole the few gloves someone had donated this morning, and the chlorine sprayers used to disinfect the bodies of those who die here, all the while hollering that Ebola is a hoax.
[
source
]
Liberia - a candidate for the Darwin Award as a nation? Let me remind you that in 2013
ALL the 25 000 candidates to the national university failed the entrance test
, the pass mark being 70%. Similar results were obtained in Nigeria.
God has her devious ways of limiting population. There are 5 billion too many of us. The grim reaper started the harvest...
Representative Kanneh said, communities in his district including; Mount Barclay and Black Gina communities currently have over six dead bodies that have been there for the past six days and are believed to have died from Ebola but the Task force is yet to pick up those bodies.
[
source
]
Hunger is also setting in:
Regrettably, essential food commodities that should be coming from rural Liberia have become so scarce that the average low income earners in Monrovia are being stretched to the limit...
"While the Liberian Government and partners are heavily preoccupied with fighting the deadly Ebola virus in the country, other problems, including starvation, continue to send some Liberians to their early graves...
[source]
"There's nowhere you can run," she said. "If you run, you find more dying. You are afraid to die, you are hungry. Mothers are leaving their children. We don't know what's going on."
[...]
When he tried to go to the church for mourning services the day after the burial, he could not get to town because of the bodies on the street.
[
Sacramento Bee
]
Ebola holding centers turn into concentration camps:
She continued: "I called my children several times outside to inform the world about my condition. They tried their best but no one helped. I became helpless and thought that death was even better than my present condition. I called nurses' attention but no one cared. I saw death in that hospital but it refused to take my life. I wished it had taken my life then. All the time I was at the hospital, they never fed me nor allowed my family to bring me food."
...
Fanta says she escaped along with more than twenty people who suffered similar neglect. "I am not alone. There were more than 20 people that ran away from that hospital because of no care. I don't know where they went." ...
For all time Fanta spent at the hospital, she was never tested, never treated. Unaware of her Ebola status, Fanta is at home. ...
Before she escaped, there were rumors that people who are not nurses and health workers were forcing their way into the hospital to cater to their 'detained' family members. The rumors were true and Sekou took advantage of it. He found his way through the nonchalant health workers, wore protective equipment (PPE) and went to his mother; already suspected of Ebola.
...
A daughter of one of the escapees who later passed away narrated even more horrifying accounts. "My mother was kept there for more than ten days. They wanted her to spend 21 days there under observation. All during these days, the hospital never gave her food or drugs. I had to buy biscuits and bread for my mother.
Source
The army received orders to shoot anybody crossing the border on sight:
AFL Ordered to Shoot Anyone Crossing Borders at Night
... "I want to hear that someone gets a bullet in their leg...
The aim, he said, is to stop 'undesirable aliens' from using that means to illegally enter the country.
[Liberia Observer]
And a lot of it because of religion
The outbreak need never have spread from Guinea, health officials revealed to AFP, except for a herbalist in the remote eastern border village of Sokoma.
"She was claiming to have powers to heal Ebola. Cases from Guinea were crossing into Sierra Leone for treatment," Mohamed Vandi, the top medical official in the hard-hit district of Kenema, told AFP.
"She got infected and died. During her funeral, women around the other towns got infected", he said.
source
Numerous people died in that classroom, one of them while I was there. Initially, people with symptoms and those without were confined together, but were later separated into different rooms. Several of the sick "escaped" the night before the mob overran it, as they were not receiving any medication, like aspirin, to help with their symptoms.
Source
...
Finally, the message to leave the dead where they lie has broken through. People call the hotline about loved ones and neighbors who die for any reason, because no one knows who has what anymore, and everyone is afraid.
Source
...
His crew is younger than him by two decades. But they're tired too. There is Yenti, who has a happy spirit, but this work could demoralize even the most sprightly soul. "It's common we see maggots," he said. "Sometimes the eyeballs are falling out of their heads. Or the tongue. The tongue falls out. And then I have to pick up his head, because you have to hold the head along with the feet and the body."
Source
...
30 años había trabajado en África. Llevaba 12 como director médico del hospital que tiene la orden en Lunsar. El centro había estado en cuarentena a causa de la epidemia de ébola que afecta al África Occidental.
El hospital de Lunsar reabrió sus puertas para atender a parturientas unos días antes de que García Viejo empezara a notar los síntomas de la enfermedad. El religioso fue trasladado en ambulancia desde Lunsar unos 120 kilómetros hasta las afueras de la capital de Sierra Leona, Freetown, el pasado jueves por la tarde para ingresar en un hospital especializado en ébola que dirige la ONG italiana Emergency.
...
Para este 2014 ya tenía también billete. Su avión debía aterrizar en Madrid el 7 de septiembre y al aeropuerto iría a recogerlo su sobrina, como hacía siempre. Los planes se truncaron.
...
Vinuesa, igual que hizo en aquella ocasión, ha reiterado que "el riesgo para la salud pública es prácticamente nulo"
...
Source
And again, as I proved before, God is a cruel sociopath. Sneaky is the kindest word here:
[A heroic doctor] contracted Ebola from a patient who went into cardiac arrest. [...] this patient didn't have any of Ebola's usual symptoms, McDonald said: No fever. No vomiting or diarrhea. No bleeding. No reason to suit up.
So when the man's heart stopped, Brisbane went in without the full protective gear health workers touching Ebola patients should wear. He did CPR. He ventilated him. He hooked him up to the usual series of tubes and wires. "And that's what happened," McDonald said, tearing up, as she described the last case Brisbane worked on.
...
We couldn't even comfort one another," McDonald said. "To care is to comfort, to console. Ebola has taken away our comfort. It has taken away our humanity."
If your husband or daughter or brother gets sick, the only way to protect yourself is not to touch them. If they die, you leave the house, call a body-removal team, and wait for the person you care most about in the world to be wrapped in what looks like a trash bag and slid into the bed of a pickup truck.
Read more about it in this
amazing article
.
The residents of the Mount Barclay Community within the Johnsonville
Township, outside of Monrovia woke up on last Friday morning in total dismay when the remains of dead Ebola victims were reportedly seen, eaten by dogs, something reminiscent of the brutal civil war here, when dogs ate dead bodies on the streets.
The Liberian Government, through the Ministry of Health and Social Welfare, buried some unaccounted-for corpses, suspected to have died from the Ebola Virus in that township few weeks ago.
The burial was done in a hurry at night following a standoff in the day between residents and the Ministry of Health burial team. The former had refused to grant the authority a piece of land to carry out the burial. The dogs, in their numbers, were seen pulling the bodies out of the shadowed grave and hastily eating them.
source
The order has is causing hunger in majority of the Township residents because the government has provided food only once (Thursday, August 21) and majority of outside relatives and friends unable to deliver food, water and money to the trapped persons. The visitation from the government is short (6am-3pm) and the bureaucracy to pass through the five check points is time-consuming. Some have spent days near the first check point, on Mechlin Street, to find a way. Perishable goods have got damaged.
"If I didn't deliver the food with me, how will my eleven children and my husband survive today?" cried Madam Mary Seon, who later told the New Republic's reporter beyond the first Check Point that she lives in West Point, but was away in Salala, Bong County, when the quarantine order was issued. "I left West Point Monday to this food and arrived in Monrovia in the afternoon of Thursday."
(My comment: ELEVEN children? How do they survive? On handouts from Europe and the USA all along?)
The government has not provided food for three days in row (Friday, August 22-Monday, August 26). Representative Saah Joseph of District # 13 and few humanitarian organizations have been filling the hunger gap created by the government's failure to provide food for the quarantined people, but the foods often come late.
The sea kicked down all the homes along the shoreline and created a plain where some of the houses had been before it struck.
source
Four men sit on plastic chairs waiting to be tested for the disease. Surrounding them are confirmed Ebola patients, walking around the packed dirt square getting exercise. One man collapses on the ground, unable to walk and appearing near death. Leaning against the wall is a woman who just died.
Those admitted to the unit who don't have Ebola will surely catch it. Those already diagnosed with the disease are just waiting to see if their bodies will fight it off. I met a young woman who had been in the ward for nine days. When I asked when she would be going home, she smiled, did a little dance and said, "Today!" She is one of the lucky ones.
...
No physical contact with the patients was allowed. If a patient collapsed, they would have to wait until someone in proper gear was available to help.
...
Behind the triage tent was the isolation ward, where patients were waiting to die or survive. The scene was apocalyptic. I asked the security guard if he was scared. "No," he replied. If an Ebola patient comes near him and tries to touch him, he runs. He showed me where he once knocked down the fence running to escape.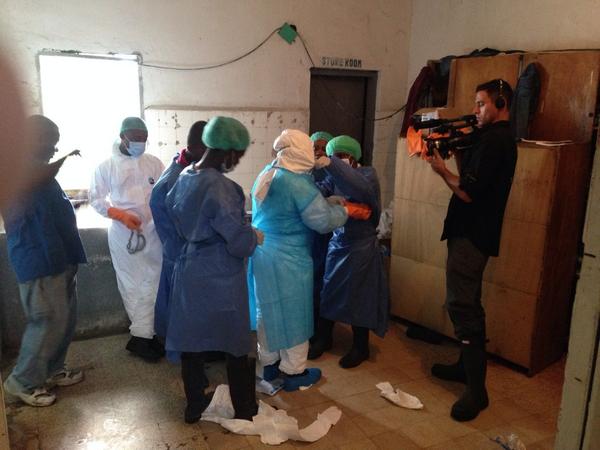 source
Monrovia — FrontPageAfrica has gathered that a suspected Ebola patient whose specimen was brought to Monrovia for testing has escaped isolation in Sanniquellie, Nimba County. The suspect, a male is said to have left the center after the electricity went off.
"He left the center because the electricity went off, accordingly because he was afraid"

source



The death of an Education Ministry employee on Monday night has forced authorities there to close down the entire Ministry effective as of yesterday (Tuesday) for an indefinite period of time.
The decision, taken by Education Minister, Etmonia David Tarpeh, came immediately after she discovered that one of the Ministry's employees, who had been at work on Monday, had left the office vomiting and later died at home.
In her abrupt pronouncement in the courtyard of the Ministry precisely at 8:10 a.m. yesterday morning, Minister Tarpeh advised all employees of the Ministry to stay away from the entity's 3rd street premises until the entire building has been sprayed or chlorinated by authorized personnel from the Ministry of Health and Social Welfare (MOH/SW).
On Monday night, it was reported that one of the employees of the Ministry, identified as Henry Karma, 40, assigned at the Procurement Division, died at his Barnesville residence from "running stomach." He showed up for work on early Monday, but returned home complaining of an uninterrupted 'running stomach', which reportedly led to his demise.
The deceased, according to a highly placed source at MOE, upon coming down with the 'running stomach,' decided to stay away from any of the nearby medical facilities. He rather remained at home because he feared being diagnosed with the Ebola virus.
"Late into Monday night, Henry Karma's condition worsened until he expired.
source

Les agents sanitaires ont récupéré et inhumé le corps d'Abdulah, ils «nous ont demandé de ne pas nous approcher de la femme et sa fille», explique Momoh Wile, «ils ont scellé les portes et fenêtres de la maison sur la femme et sa fille». Seidia et Fatu «pleuraient jour et nuit, sans cesse, suppliant la population de leur apporter à manger mais tout le monde avait peur» d'approcher de la maison où elles sont restées «sans nourriture ni eau», ajoute-t-il.

source

Mr Mehemoh said clothing to protect health workers being infected was inadequate and there was only one broken stretcher to carry both patients and corpses, increasing the risk of infection. In a further sign of strained resources, nurses and members of the burial team at Kenema said the government had stopped paying their wages of $US50 a week.

source

My comment: 50 USD a week is 2500 USD a year.

Would you like to risk your life and health for that money anywhere?

A man escaped from an Ebola quarantine centre in Monrovia on Monday and sent people fleeing in fear as he walked through a market in search of food, a Reuters witness said. The patient, who wore a tag showing he had tested positive for Ebola, held a stick and threw stones at a doctor from the centre in the Paynesville neighbourhood who stood at a distance and tried to persuade him to give himself up. At one point, he stumbled and fell, apparently weakened by illness. Healthcare workers wearing protective clothing forced him into a medical vehicle and returned him to the facility. "We told the Liberian government from the beginning that we do not want an Ebola camp here. Today makes it the fifth Ebola patient coming outside vomiting," said a man who watched the scene. Another witness said patients at the treatment centre did not receive enough food.

source

The late nurse, who was well known in the YED community in Mango Town, Central Virginia, was contacted by children of the infected woman so that she (the nurse) could administer some medication to their sick mother. In first contact, the nurse was told by the children that their mother had suffered from sugar and so they wanted her to be treated, which the nurse is said to have immediately begun.
However, it soon became clear that the medical history provided by the children was far from reality as their Mom had been infected with the Ebola Virus. She died

a few days

after. Relatives allegedly forged Death certificate for the woman and subsequently took the body away for burial the same day to an unknown location.
Subsequently, one of the deceased's sons died of the virus followed by a second son, who became the third victim

from

the same family to have contracted the virus. He escaped the YED community to his former community

overnight, but

was rejected there since residents of the area already knew the mother's health history.

Another one:

Tracing his family records, the dead man was one of the sons of the woman that died earlier of the virus. As the team reached the home of the dead victims' the rest of the family members, including tenants fled, leaving the dead man at the front of the house. It was soon discovered that the fleeing family members were taken away by their church pastor to an unknown location.
source
Bogus ebola drugs:
During the Ebola 2014 epidemic, IEMO sent an "experimental homeopathic drug" following two weeks of consultation with Liberian ministers over the efficacy of an "aqueous alternative medicine that promotes homeopathic cure", with more to follow[4]. In return, the Liberian government thanked International Emergency Management Organization, for the timely intervention by the provision of the experimental remedy.[5]
Read also this article.
Press censorship:
Reporters without government permission to cover outbreak could face arrest under new rules.
Liberia's government has said that journalists will now need official permission to cover the Ebola outbreak under new rules aimed at protecting patient privacy.
Source

So Isaac's wife got Ebola, because that is what happens when you take care of your mother. And then she miscarried after seven months of pregnancy, because that is what universally happens when you are pregnant and you get Ebola: Before you lose your own life, you lose your baby.
When she started to bleed, Isaac took her to the clinic. It was full of people. She waited. No one helped. Then she vomited. The health care staffers panicked — vomit is one of Ebola's best known symptoms — and they said they would send her away. But first, they wanted Isaac to clean up her blood.
It was nighttime. They gave him a flashlight. He got on his hands and knees, and he scrubbed his wife's blood from the clinic floor. "I used my bare hands. No gloves," he said. "I smelled like her blood for three days."
By the time the smell left him, his wife was dead. Eleven days later, his 3-year-old son died too. And then Isaac, too, got sick.
Buzzfeed - very revealing and honest article
Sierra Leone
Potential cases not screened at airports anymore:
Ivory Coast fighting ebola
Nine passengers from Ebola stricken Sierra Leone Friday, claim they were not screened on arrival at the Kotoka International Airport [in Ghana].

According to one of them, they handed over their passports to Immigration officials at the counter and after going through the necessary checks, and were allowed to go without any screening.

They had returned from Sierra Leone where they work for a mining company.

"And after checking; we ended up collecting our luggage and then left the airport. No one screened us; nothing of that sort happened; there was no screening at all," he told Joy News' Joseph Opoku Gakpo.
[
Source
]
Ebola was first detected in Fatu's family on July 20 when her father Abdulah fell sick, Wile told AFP. The diagnosis sparked panic among the 500 or so people who lived in the village. They called health authorities but by the time a team finally arrived, Abdulah, 51, had been dead for five days.
Begging for help -
His wife, Seidia Passawee Sherrif, 43, and Fatu were already sick. Only their son, Barnie, 15, tested negative for Ebola.The health workers took Abdulah's body, and, according to Wile, told the villagers "not to go near the lady and her daughter".
"They were crying all day and all night, begging their neighbours to give them food but everyone was afraid."
Fatu's mother eventually died on August 10 but the girl's cries could still be heard around the otherwise abandoned village. The doors and windows to the house were sealed shut and there was no way to see inside.
Reached by AFP on Tuesday, Wile said Fatu had died overnight, still alone, and still without water or food. The only surviving member of the family, Fatu's 15-year-old brother Barnie, tested negative for the virus but was still shunned by his fellow villagers.
AFP found Barnie on Sunday taking refuge in one of the abandoned houses, alone and scrounging for food. Looking tired and haggard, dressed in a dirty t-shirt and worn sandals, Barnie sobbed as he told his story.
"It is here that I sleep; it is here that I stay the whole day. Nobody wants to come near me and they know — people told them that I don't have Ebola," he said.
"When I am hungry, I go in the bush to look for greens," he said. "That's what God says so I accept."
Asked about Barnie a few days later, Wile said he had no news.
The villagers who abandoned Fatu and Barnie have meanwhile themselves been shunned by neighbouring towns also in fear of the spread of the virus, Wile said.
....
[
source
]
This brings me to the case of a non-Ebola dead victim, whose body was forcefully removed by a burial team in spite of documentary evidence to the contrary, on the 1st October, 2014.
A 64-year-old man Patrick Sheku of Loko Town, Kissy who was a mason had been sick for three months during which he was being treated in a government hospital with all his prescription papers intact as well as his medical history. In spite of their explanation and documents they asked that the family pays them Le600, 000 (Six hundred thousand Leones) in order not to take the body away as an Ebola death. When the family said they could not afford it they asked for Le500,000 and Le 400,000 respectively. Amid protests from the family members they flung the body into their vehicle that already had other bodies. They then fumigated the room of the dead and drove away.
Source
Then a shriek of joy shatters the silence. "Jessica! You're back from America!", a tiny elderly woman cries, rushing towards me with open arms. Before I have time to react, she throws her arms around me in a vice-like embrace.
What would ordinarily be brushed off as a case of mistaken identity takes me 21 days – the incubation time of the Ebola virus – to get over.
.
One health worker who had identified dozens of cases told me many patients had reddened eyes in the early stages. Suddenly I noticed an awful lot of people in Sierra Leone seemed to have bloodshot eyes.
Guardian
Ghana
On Tuesday evening Joy News learnt a patient who had previously been treated for a psychotic episode returned after the wife noticed that he was clenching his teeth.
Doctors initially thought it was a drug reaction. Deputy Director of the facility Dr. Pinaman Appau was called by nurses and rushed in to see the man going unconscious and bleeding from the nose and mouth.
She and the medical director came in wearing their gloves and managed to put the patient on the floor to keep him from chocking on his blood.
They tried to take samples of the blood but were not successful. They eventually took the sample from the blood oozing from the nose.
Within five minutes the patient was dead. There was no protective clothing and other key protective health materials to keep the care givers safe from a possible Ebola infection.
[Source]
Congo, before 2014
Tragically, some healthy people were put into quarantine centers and died. People got angry and didn't want to deal with quarantine orders, because they believed if you're sick and have to go to the hospital, you're going to die and these health workers will kill you.
Source
[Ebola turned] the hospital at Maridi into a morgue. As it jumped from bed to bed, killing patients left and right, doctors began to notice signs of mental derangement, psychosis, depersonalization, zombie-like behavior. Some of the dying stripped off their clothes and ran out of the hospital, naked and bleeding, and wandered through the streets of the town, seeking their homes, not seeming to know what had happened or how they had gotten into this condition. There is no doubt that Ebola damages the brain and causes psychotic dementia.
Preston, The Hot Zone
China
The Chinese, on the other hand, are very well prepared. Kudos!
"From Aug 1 to Aug 26, 2014, the entry-exit inspection and quarantine bureaus across China inspected 5,955 travelers from Ebola affected countries and offered quarantine treatment to 283 flights, 5 ships, 17 trains and 43 cars that had such travelers on board," said Li Jing, director of the administration's press office.
[
source
]
See also this test
ebola rehearsal in Macao.
Korea
Africans are not welcome in this pub:
Russia
And what had Russians been saying about ebola and other contagious diseases?
"[...]we wouldn't see just one focus of infection but rather hundreds or even thousands of foci, because a person infected by a primary aerosol would start infecting other people by secondary aerosols. Today, our preparedness to respond to these types of situations is very low"
claimed a Russian bioterrorism scientist already in 1999
USA
Metabiota, the guys who were collecting ebola samples in Sierra Leone already in March 2014, were saying this back in 2013:
How well prepared are we for a new pandemic?
We are not very prepared at all. ...
In general, it goes without saying that places with higher quality medical care and better surveillance will be better off. But there should be no sense of safety, even for people with the best healthcare within the best healthcare systems. These viruses do not respect political boundaries, they do not respect socioeconomic boundaries.
....
The pot keeps getting stirred: any virus that crosses over into humans has the potential to get to any other place amazingly quickly.
...
[Viruses spread] through people breathing in the exhaled breath of sick animals, or through skin-to-skin contact, or from blood contact, to which hunters are vulnerable. The most worrying thing is when viruses then mutate so that they can be transmitted directly from human to human.
...
I only realized I had it [a virus] when I got back to the United States, and it was amazing to see that the quality of care in there [the USA] was actually much worse than in Cameroon.
Source
USA treats ebola terrorism as a major threat
The United States government considers Ebola and other hemorrhagic fever viruses to be among the most serious potential bioterrorism agents, along with those that cause smallpox, anthrax, botulism, plague and tularemia.
NY Times
USA is as unprepared for ebola as other countries
A survey by National Nurses United of some 400 nurses in more than 200 hospitals in 25 states found that more than half (60 percent) said their hospital is not prepared to handle patients with Ebola, and more than 80 percent said their hospital has not communicated to them any policy regarding potential admission of patients infected by Ebola.
...
Nurses say hospitals have not thought through the logistics of caring for Ebola patients.
"People say they are ready, but then when you ask them what do you actually have in place, nobody is really answering that," said Karen Higgins, a registered nurse at Boston Medical Center.
Reuters
"Nano silver" promoted as an ebola cure also in the USA
USA quacks join Nigerian minister of health in promotion of snake-oil silver nanoparticles:
On the home page you have a YouTube video embedded titled, "URGENT MESSAGE to EBOLA-STRICKEN NATIONS' HEADS OF STATE." In the video you state:
• "As of now it is said that there is no treatment against Ebola, and that is not true. In fact there is a well-known, well characterized, nutrient. That is Nano Silver.... [I]t does kill every pathogen against which it has been tested, worldwide, without exception. There is no other effective solution ...Nano Silver ...is unlimited in its effectiveness ...[and is a] safe, non-toxic ...and available solution against Ebola and every other communicable disease...." (00:35- 2:12)
On your "Smoking Gun: US Suppressing Ebola Therapy Since 2009" page, which is accessed from a link on your home page:
• "2009 DOD Funded Study Finds Nano Silver Inhibits Ebola Virus"
• "[] US GOVERNMENT RESEARCH SHOW[S] THAT THERE IS A CURE FOR EBOLA ...AND IT IS NANO SILVER. ..." ·
• "They DID come up with a cure, prevention and treatment for it [Ebola]: 10 PPM Nano Silver."
• "[] Nano Silver at 10 PPM IS the definitive prevention and therapy for Ebola virus...
• [T]here is a cure, treatment and prevention for Ebola virus"
• "[N]ano silver was known ...as the definitive antiviral agent against Ebola virus[]"
• "[] NANO SILVER, at 10 PPM, effectively kills the Ebola virus."
• "[T]here IS a ...cure and prevention for Ebola Virus."
• "[T]he CBD will alleviate the terrible pain of the disease while the silver works its wonders...."
FDA warning letter
When Thomas Eric Duncan first came into the hospital, he arrived with an elevated temperature, but was sent home.
On his return visit to the hospital, he was brought in by ambulance under the suspicion from him and family members that he may have Ebola.
Mr. Duncan was left for several hours, not in isolation, in an area where other patients were present.
No one knew what the protocols were or were able to verify what kind of personal protective equipment should be worn and there was no training.
Subsequently a nurse supervisor arrived and demanded that he be moved to an isolation unit– yet faced resistance from other hospital authorities.
Lab specimens from Mr. Duncan were sent through the hospital tube system without being specially sealed and hand delivered. The result is that the entire tube system by which all lab specimens are sent was potentially contaminated.
There was no advance preparedness on what to do with the patient, there was no protocol, there was no system. The nurses were asked to call the Infectious Disease Department. The Infectious Disease Department did not have clear policies to provide either.
Initial nurses who interacted with Mr. Duncan nurses wore a non-impermeable gown front and back, three pairs of gloves, with no taping around wrists, surgical masks, with the option of N-95s, and face shields. Some supervisors said that even the N-95 masks were not necessary.
The suits they were given still exposed their necks, the part closest to their face and mouth. They had suits with booties and hoods, three pairs of gloves, no tape.
For their necks, nurses had to use medical tape, that is not impermeable and has permeable seams, to wrap around their necks in order to protect themselves, and had to put on the tape and take it off on their own.
Nurses had to interact with Mr. Duncan with whatever protective equipment was available, at a time when he had copious amounts of diarrhea and vomiting which produces a lot of contagious fluids.
Hospital officials allowed nurses who had interacted with Mr. Duncan to then continue normal patient care duties, taking care of other patients, even though they had not had the proper personal protective equipment while caring for Mr. Duncan.
Patients who may have been exposed were one day kept in strict isolation units. On the next day were ordered to be transferred out of strict isolation into areas where there were other patients, even those with low-grade fevers who could potentially be contagious.
Were protocols breached? The nurses say there were no protocols.
...
There was no advance hands-on training on the use of personal protective equipment for Ebola. No training on what symptoms to look for. No training on what questions to ask.
...
Guidelines have now been changed, but it is not clear what version Nina Pham had available.
The hospital later said that their guidelines had changed and that the nurses needed to adhere to them. What has caused confusion is that the guidelines were constantly changing. It was later asked which guidelines should we follow? The message to the nurses was it's up to you.
...
In summary, the nurses state there have been no policies in cleaning or bleaching the premises without housekeeping services. There was no one to pick up hazardous waste as it piled to the ceiling. They did not have access to proper supplies and observed the Infectious Disease Department and CDC themselves violate basic principles of infection control, including cross contaminating between patients. In the end, the nurses strongly feel unsupported, unprepared, lied to, and deserted to handle the situation on their own.
Source
Cartersville, GA, has a population of about 20,000. People living here, like Jennifer Geros, are surprised to know Phoenix Air Group, based in Cartersville, is involved in an international mission. [...] "We are making the news and history," Geros said. "It's a little surprising because we are a little, small town."
Source
Undisclosed number of people who've been exposed to the Ebola virus — not just the four patients publicly identified with diagnosed cases — have been evacuated to the U.S. by an air ambulance company contracted by the State Department.
"We moved a lot of other people who had an exposure event," said Dent Thompson, vice president of Phoenix Air Group. "Many times these people are just fine, they just had an exposure. But you have to treat it as though the disease is present."
How many exposed patients have been flown from West Africa to the U.S.? Thompson said medical privacy laws and his company's contract with the State Department prevent him from revealing the figure.
Yahoo News
The American doctor is thought to have contacted it while having dinner with another health worker that was developing a fever.
Reuters
Ebola has been proven to live in clothing and surfaces for at least six days in ideal conditions.
Daily Mail
"The last time a president tried to make a disease a national-security issue, he helped trigger a global pandemic that killed 50 million people."
Stateside, at a military camp outside of Gettysburg, a young post commander named Dwight David Eisenhower ignored Washington's advice to ignore the disease. Instead, he developed health protocols that broke the back of the disease's run through the ranks. Impressed with the success of his methods, the Army ordered Eisenhower to dispatch his staff to other camps to train them on how to rein in influenza.
Likewise, many American cities got the disease under control only by ignoring the federal government and adopting responsible public-health policies.
Source
US nurses fight back
We demand:
• Full-body hazmat suits that meet the American Society
for Testing and Materials (ASTM) F1670 standard for blood penetration, the ASTM F1671 standard for viral penetration, and that leave no skin exposed or unprotected and National Institute for Occupational Safety and Health-approved powered air purifying respirators with an assigned protection factor of at least 50 — or a higher standard as appropriate.
• There shall be at least two direct care registered nurses caring for each Ebola patient with additional RNs assigned as needed based on the direct care RN's professional judgment with no additional patient care assignments
US Nurses letter to president Barack Obola
Finally some wise people, I say!
Level-4 lab experts chips in:
"It's totally shocking," Ms. Sharpe said. "It would take me anywhere from four to six weeks to train an employee to work in a high containment lab in a safe manner. It's ludicrous to expect doctors and nurses to figure that out with a day's worth of training.
Source
CDC claims black is white
Dr Frieden, CDC director, during a telephone press briefing claims one
cannot get Ebola by sitting next to someone on a bus, but that infected or exposed persons should not ride public transportation because they could transmit the disease to someone else.
More precisely:
"My first question is, did the CDC vet this [Obama's] video message before it was released and posted on U.S. embassy websites, and is it true that a person runs absolutely no risk of contracting Ebola on public transportation, such as a bus?"
"Yes, CDC vetted the message, and, yes, we believe it's accurate,"... "should you be worried that you might have gotten it by sitting next to someone? And the answer is no."
[But then] if you are sick and you may have Ebola, should you get on a bus? And the answer to that is also no. You might become ill, you might have a problem that exposes someone around you" Source
Next thing, they were
frantically searching for hundreds
of passangers
and arrested
(that is, quarantined) dozens of people who were meters or
thousand of miles away
(but on the same not fully disinfected plane) from any
putative
ebola victim.
War Is Peace, Freedom Is Slavery, Ignorance Is Strength, Black Is White, Up Is Down, North Is South, Islamic State of Iraq and the Levant is not Islamic,
You Can Give (But Can't Get) Ebola on a Bus.
CDC finally changes the level of protection for ebola health workers
Uff. Read
this
. It took them some months and deaths to change the guidelines:
From left to right: changing CDC recommended level of protection when treating ebola cases
US Governors arrest all ebola exposed doctors
Read
this US nurse's report
.
Spain
Fuentes del ambulatorio han informado de que en ningún momento se identificó como una profesional que había estado con enfermos de ébola, y se fue a su casa con una receta de paracetamol.
...
Ella avisó de que tenía unas décimas y preguntó a qué temperatura debía llegar para avisar. Oficialmente son 38,6 grados. Sus colegas critican que eso se debería haber aplicado para alguien que "pasaba por allí", no para una sanitaria que tuvo contacto directo con los dos pacientes fallecidos
...
Días después —al menos el 2, y, según una portavoz de CSIF, más veces— Romero volvió a llamar al hospital para informar de su malestar. Ese día resulta otro momento clave. Según fuentes sindicales, ya tenía más de 38,6 grados, pero no se activó ningún protocolo ni se decidió su aislamiento.
...
Eso hizo, y fue trasladada por personal sin protección especial que la llevó a un centro no especializado donde estuvo varias horas en urgencias. Parte de las 21 personas ahora en observación son quienes estuvieron en contacto con ella en ese periodo.
...
Lola, trabajadora de esta gestora de Alcorcón, llamó al Ayuntamiento: no le cogieron. Luego, telefoneó a las policías nacional y municipal, que tampoco la atendieron, y finalmente al servicio 112 (asistencia inmediata), donde un médico del SUMMA le explicó el protocolo que debía seguir en una larga conversación.
Lola reclamaba que se precintase la puerta de acceso al bloque y comenzase la desinfección. La idea del Ministerio de Sanidad no es solo actuar dentro del piso —incluidas las tuberías— sino limpiar de rastros los coches de la pareja que se encuentran en el garaje
...
Germany
Simply burying the body of a dead Ebola patient does not mean the virus is gone forever.
"There is a danger that somebody could exhume the body," a spokesperson for the Federal Institute for Occupational Safety and Health says.
Rüdiger Schöneich, though, sees a higher risk in small animals, such as mice and rats. They could bring the virus back to the surface.
"Around the dead buried body is living nature," Schöneich says. "A mouse could dig itself into the coffin."
Leipzig
Source
A prestigious group of German scientists is warning that the Ebola virus is spreading rapidly and to an unexpected extent and they say the current outbreak is not following the patterns seen in the past and is showing "a new disease dynamic in regions where it has never been recorded before."
Source
The basic reproduction number (BRN) is a statistical measure of the number of people who are expected to be infected by one person who has the disease in question. If the rate is less than 1, the infection will die out in the long run and if the rate is greater than 1, the infection will continue to spread in a population.[199] A study published on 23 September found the BRN of the current Ebola outbreak to be between 1.71 and 2.02.[4]
Ebola Wikipedia, OCT 2014
The United Kingdom
Stephen Mepham, the infectious diseases and microbiology consultant who flew to Sierra Leone to accompany Pooley home when he was evacuated by the RAF 18 days ago, explained that the ward kept its air at negative pressure and that it was systematically replaced because of the possibility of "aerosolisation" of particles.
The Guardian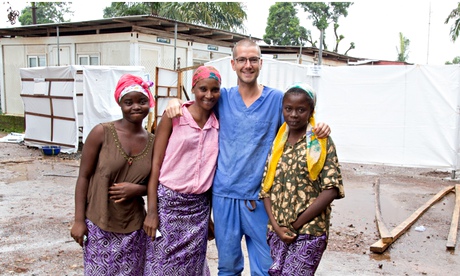 Pooley touching the ebola "survivors" in Sierra Leone

Certainly it would be different from the state-of-the-art medical treatment Pooley received at the Royal Free, where he was treated after his emergency repatriation. There, he lay inside a polythene "patient isolator" tent, tended by dozens of staff in a unit tailor made for "category four" infectious diseases. The tent alone cost £25,000.
He was the first patient in the unit for two years. There were protocols for everything, covering food and drink to removal of materials, including body waste through heat-sealed containers. The ward's floors were colour-coded for contamination and non-contamination sides, and there was a one-way flow of people.
Stephen Mepham, the infectious diseases and microbiology consultant who flew to Sierra Leone to accompany Pooley home when he was evacuated by the RAF 18 days ago, explained that the ward kept its air at negative pressure and that it was systematically replaced because of the possibility of "aerosolisation" of particles.
The Guardian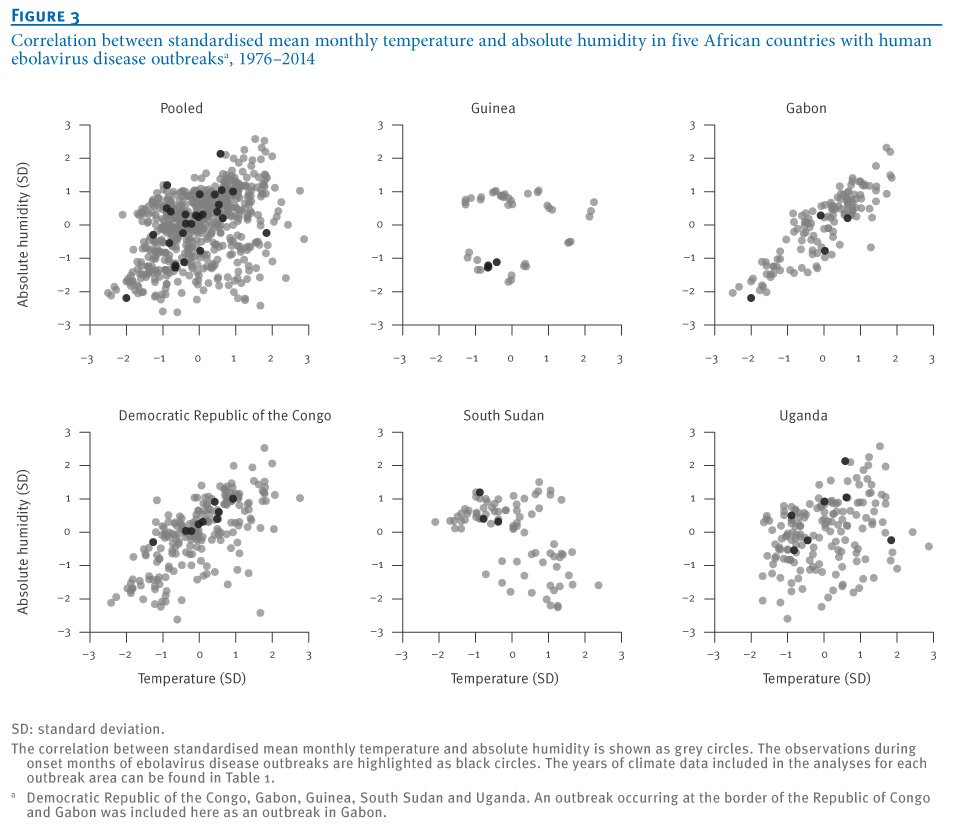 Our results suggest
lower temperature and higher absolute humidity are associated with EVD outbreak onset
in the previous EVD outbreaks in Africa during 1976 to 2014
Source